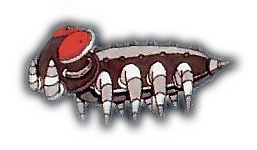 The Letni Bug is an enemy from Jazz Jackrabbit.
Description
Edit
There are two types of bugs on Letni, the floor bugs and ceiling bugs. Mindless slaves of the enormous PC they're in, they will attack whatever approaches.

The Letni Bugs are tiny insects which resemble microchips. They crawl on floors, move fast, and are often positioned on high platforms, making it hard to deal with them despite they only moving left and right.