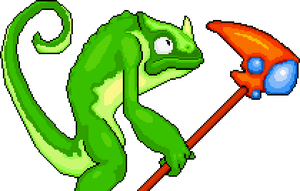 The Chameleon Guard is an enemy from the GBA version of Jazz Jackrabbit.
Chameleon Guards appear as tall, bipedal chameleons, shown to not be very bright. Two versions of the guards can be found, ones equipped with staves and ones equipped with water guns. Both types slowly walk towards the player, with the Staff Guards swinging their staves when the player is close while the Gun Guards shoot from a distance. The guards can't crouch, so the player can shoot while crouching to avoid the guard's shots.
Community content is available under
CC-BY-SA
unless otherwise noted.