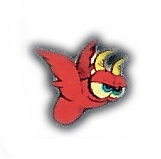 Bats are recurring enemies from the Jazz Jackrabbit series.
Description
Edit
These tiny bats are made up of wings and eyes. Nothing else!
Jazz Jackrabbit
Edit
Each of the main games introduces a different type of bat. On the first game you'll face the Red Bats on the Sluggion level, which are tiny red enemies with large eyes. They fly back and forth, dashing forward to attack the player.
Jazz Jackrabbit 2
Edit
On the second game you'll face the Purple Bats. The Purple Bats look more like bats this time around. They hang on the ceiling, waiting for the player to come unknowingly forward. When he does, it will swoop down, and attack!